Police Officer Disciplinary Databases (POST Commission's Version)
The POST Commission weaves their little webs of opacity.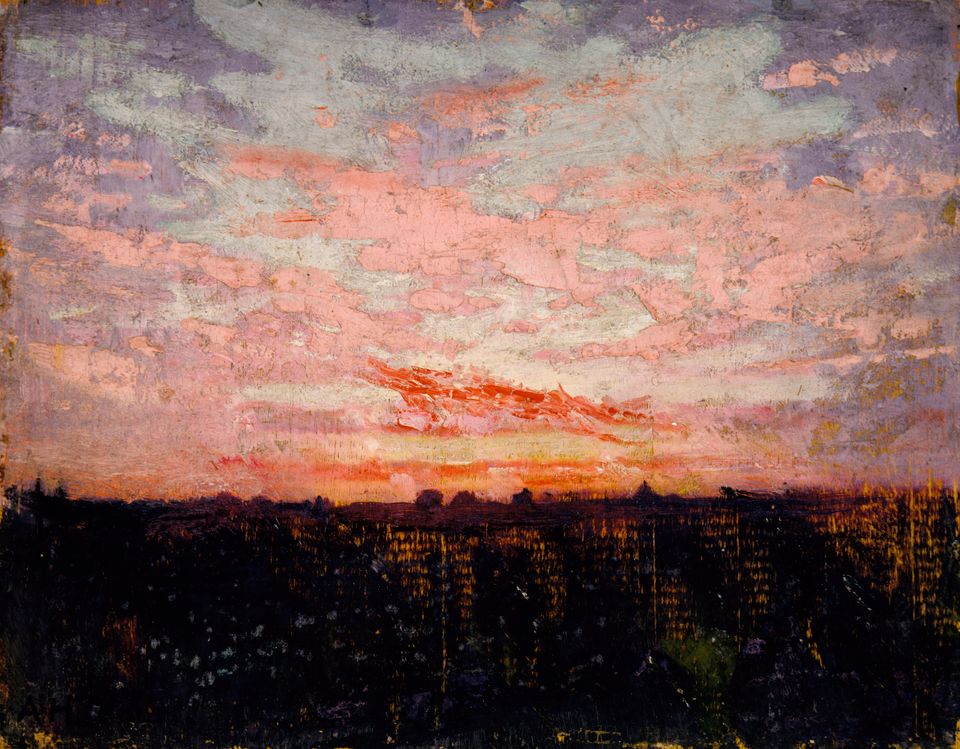 Two years after the passage of the police reform bill in Massachusetts, and close to 14 months after its initial launch date, the Peace Officer Standards and Training (POST) Commission's "database" for disciplinary records has finally gone online. POST touts "3,413 records of 2,165 officers from 273 law enforcement agencies" and promises regular updates, but, unlike a certain singer-songwriter's re-releases, the POST vault feels less like "All Too Well (Ten Minute Version)" and a little more like The Mystery of Al Capone's Vaults.
While there will be more to come, and while I write this snap reaction to the database approximately six hours after its official release, I wanted to highlight a few of the major drawbacks and disappointments on my initial review.
---
1) The data is woefully inconsistent
Putting aside the fact that the data is only current as of January 31, 2023, there are things in here that I would have expected to find and did not, and vice-versa. For example, in a previous post, I talked about Douglas School Resource Officer Brett Fulone who had records including "improper firearm usage."  I searched the Douglas Police Department in the POST release and found two incidents listed: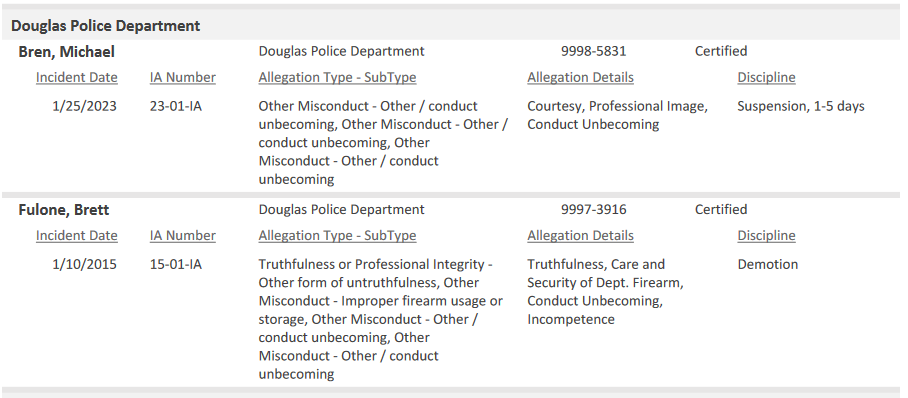 Now, Officer Fulone has four incidents listed for this specific internal investigation, according to POST.  This is not especially a useful way to display it; it gives the impression that there was only one incident with four parts, and provides zero context.  Put another way, if you're only looking to learn if an investigation resulted in discipline? Sure, great. But if you want to understand the narrative (Officer misused a firearm, lied about it, and got demoted (NOTE: I do not know if that's what happened)), the POST version does not provide that.
Contrast the POST version with what Douglas sent to POST in 2022:

You immediately notice some differences:
The POST database shows four related incidents for Officer Fulone on January 10, 2015, but the records sent to POST by Douglas PD lists an additional sustained allegation. While one could argue that POST's effort to consolidate information was meaningful, that meaning is wholly lost here in the presentation.
While POST lists Officer Fulone's incident that resulted in a demotion, it does not list the "Policy Violation - Reporting for Duty." While it was a question of sorts as to what POST would end up listing in this database, some policy violations ended up on the final list after all.
POST also does not list Officer Fulone's incident regarding the accidental firearm discharge in 2017.  That is a little more serious.
Gregory Gilbert is a sergeant in Douglas, and is still listed as an active officer on their website. With one incident and two reportable charges in 2020, we would expect him to be on this list, but he is not.
I did report these as errors, but as a citizen/journalist I have no idea if they'll accept it or not.  We'll see.  It should be noted, however, that POST has provided conflicting guidance and information in terms of policy violations, as I detail more specifically below.
You'll recall, as well, the Duxbury Police matter with Stephen Amato, recently indicted for some crimes related to his law enforcement work and with six sustained incidents. Duxbury does not show up in either list as of this moment. While the indictment came after the January 2023 cutoff, the incidents predate that event.
If I had to guess, I suspect POST did not look at the original spreadsheets at all and relied on whatever was put through their resubmission process. More on this as I communicate with the POST Commission on this issue.
2) The "database" is not a database at all
It's a PDF spreadsheet.
To be fair and charitable, clear work went into this to make it standardized.  There are two versions sorted by department and name. The sorted versions, however, are literally PDFs of the information, and provide nothing more than name, incident number, department, details of the allegations, and discipline. You can't sort these lists as they are provided, and you can't "follow" an officer from one place to another; for that you need to open the CSV, which is great for data geeks but far from user-friendly.
Now, we learned from the POST Commission last week in their public meeting that the departments resubmitted information via a Salesforce portal. I have requested the raw data as submitted to POST; that request is due back to me at the end of the week. Chances are high that the portal was developed with certain fields in mind that perhaps don't allow for that sort of granularity, but it's a huge miss.
I'm far from a coder.  I'm a baby data visualization nerd.  With all that said, it should not have been terribly difficult to get a searchable, interactive database up and running for this information, especially with how much lead time they had.  
3) (POST Commission's Version) fails to meet the statutory standard
This is the worst part of it, for me: POST has a specific statutory charge, and this database does not meet what we would expect.  The statute, Massachusetts General Law Chapter 6E, Section 3(28), grants POST the power to:
adopt, amend or repeal regulations in accordance with chapter 30A for the implementation, administration and enforcement of this chapter, including, but not limited to, regulations... identifying patterns of unprofessional police conduct, including, but not limited to, patterns of... (B) an increase in the frequency of complaints regarding an individual officer or agency; or (C) the number of complaints regarding an officer or agency that are at least 1 standard deviation above the mean for similarly situated officers or agencies for a defined period...
Emphasis is mine. POST is required, by law, to gather this information to identify patterns and show information on officers or agencies.  This is part of why the resubmission guidelines were so poor; by removing investigations with unsustained or exonerated outcomes, you lose the patterns, and without a consistent statewide standard of what constitutes exoneration or sustained allegations, we're relying on the chiefs of police to decide what's reportable here.  
If that isn't bad enough, when chiefs of police reach out to POST for clarification on what needs to be submitted, it does not mirror what constitutes "other misconduct" on the POST site. Take, for example, this exchange between POST and Northampton Chief of Police Jody Kasper: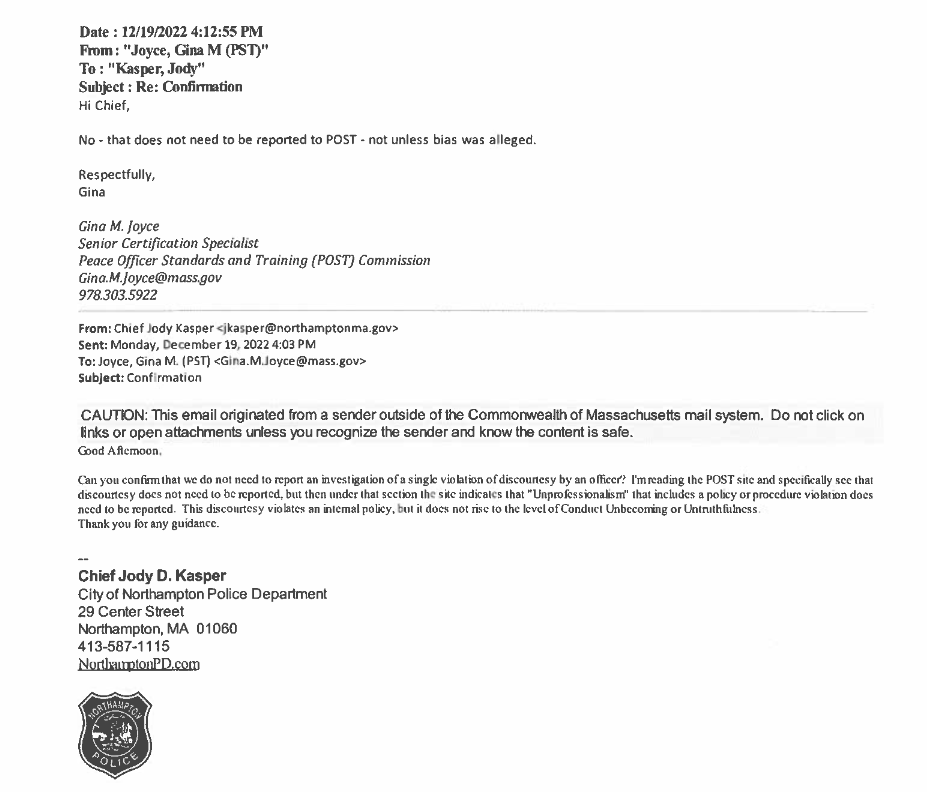 In the email, Chief Kasper asks whether "an investigation of a single violation of discourtesy by an officer" is reportable, citing the conflict on the POST site. Gina Joyce, Senior Certification Specialist at POST, responds that such an investigation "does not need to be reported to POST - not unless bias was alleged." You could fly a jet through the hole that creates.
Another example is this exchange between Plymouth Chief of Police Jason Higgins and John Paolillo, POST Certification Specialist: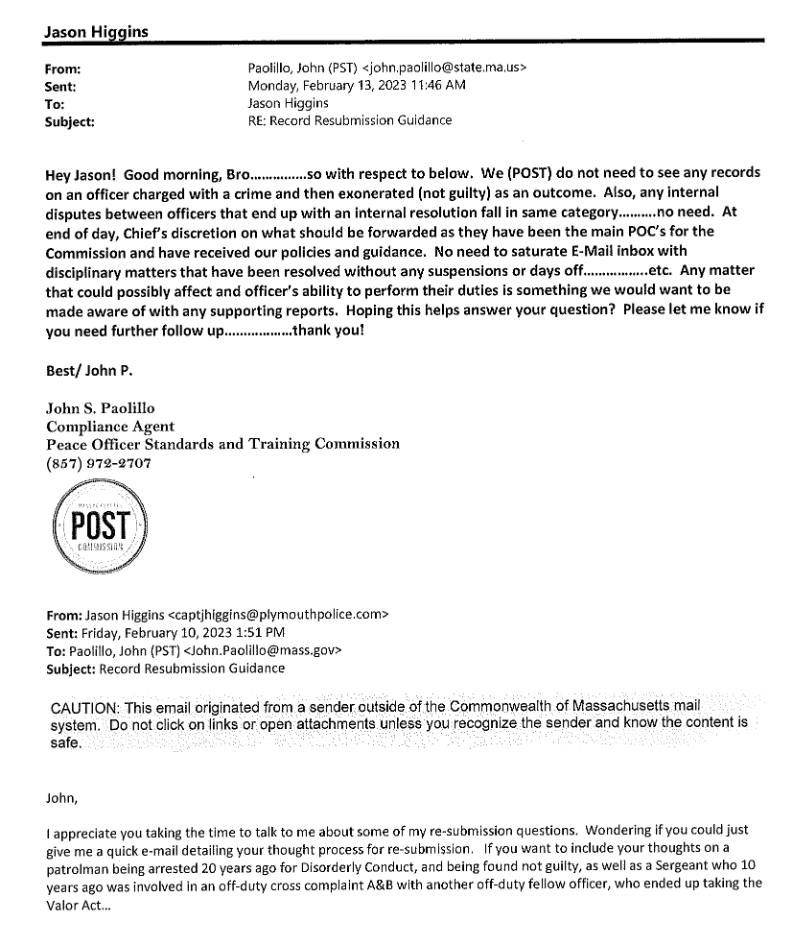 Chief Higgins acknowledges a prior conversation and asks POST whether a) an officer arrested but found not guilty and b) a sergeant involved in an internal off-duty assault and battery incident need to be reported. Paolillo responds that POST "[does] not need to see any records on an officer charged with a crime and then exonerated (not guilty) as an outcome" and "internal disputes...fall into the same category." He later advises Chief Higgins that POST is relying on "Chief's discretion" on what to report and there is "[N]o need to saturate [the] E-mail inbox with disciplinary matters that have been resolved without any suspensions or days off."
(Plymouth continues to resist providing any disciplinary outcomes after repeated requests and appeals.)
The POST website says the database covers "[O]ther misconduct (unprofessionalism, policy violations, conduct unbecoming, conformance to rules, etc.)," but two different representatives from the POST Commission appear to provide different guidance to chiefs with questions.
---
As Ms. Swift once said, "I think I've seen this film before, and I didn't like the ending." So what's next?  POST Executive Director Enrique Zuniga has made himself available for discussions on this database, and I tentatively have some time on his calendar for tomorrow afternoon.  Right now, though?  I'm angry and I'm disappointed. I'm angry that we're not getting the sort of oversight from POST that we need, and disappointed that this database somehow came out as less useful than many of the most pessimistic observers predicted.
More later this week.
Jeff Raymond is a former columnist for the Millbury-Sutton Chronicle and Founding Editor of The Bramanville Tribune. He can be reached at jeff.raymond@masstransparency.org or on Twitter at @jeffinmillbury